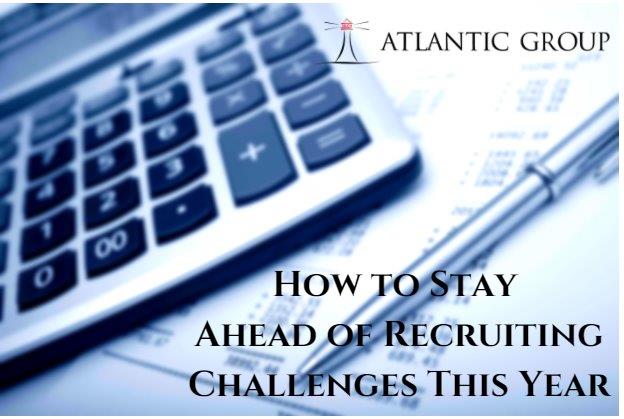 The Atlantic Group weighs in on the top trends that will drive financial recruiting this year. Partner Andrew Golden walks us through what he sees and where we're heading in 2018.
Competition for finance talent is fierce. To stand out among competitors – and attract top talent – employers are constantly seeking ways to stay on top of recruiting trends and face new challenges head-on as they arise.
New York-based search and advisory firm Atlantic Group recently released a new report, authored by senior director Sarah Brumbley, laying out the top recruiting trends in finance that will drive recruiting in 2018.
The recruiting firm, which has offices in Philadelphia, Boston and Stamford, CT, executes searches regionally, nationally and globally across a diverse range of verticals. Originally focused on finance, accounting, operations, investor relations and other infrastructure roles, the organization's capabilities over the last decade have come to include information technology, corporate services & administrative support, healthcare, construction & mechanical services and a full-service staffing practice which provides coverage to its practice areas.
The need for top-flight financial executives is growing. To win the war for top financial executives, the firm said, companies must show prospects what makes their organization an attractive and fulfilling place to work. Culture is of critical importance. Employers must also keep an open mind to the possibilities that each individual candidate offers their business, and once hired, to keep them on board by compensating them fairly.
Here are Atlantic Group's top recruiting trends in finance that will drive recruiting in 2018.
Continuous War for Top Talent
Competition is tough, and job seekers want to move fast. Companies, said the Atlantic Group, must hasten their interview process and find ways to set themselves apart from other employers by selling a flexible work environment and strong company culture and mission – in addition to providing competitive compensation and benefits.
"When clients are searching for specialty functions and technically skilled talent for their unique needs, companies need to be impressive, organized, decisive and efficient with their interview process to attract and close the best candidates," said Atlantic Group partner Andrew Golden. "Demonstrating a high-quality culture is the most important factor, and when the interview process is succinct, energetic and organized, clients will present well
Find the Right Candidate, Not the Perfect Candidate
Don't expect every candidate to possess every skillset on your recruitment wish list, said the recruiting firm. That's rare – so employers must be flexible, and be willing to interview and hire candidates who have some or most desired skills, not all.
"Given the speed with which great candidates are being hired, clients would be wise not to overlook the really-good -to-great for the sublime," said Mr. Golden, whose core focus includes roles within the office of the COO/CFO/CAO and other infrastructure areas. "Too many companies meet candidates they are impressed with and that they like but then feel compelled to continue with the search for the purpose of comparative analysis."
For roles that are traditional, he said, "do not pass on good at the expense of looking for great," he said. "Chances are if you think a candidate is good, so will your competitor and the search can find itself set back at square one."
Salaries Will Trickle Upward
According to the Atlantic Group report, salaries will continue to increase this year. The biggest challenge will be for human resources departments to find ways to ensure existing employees are compensated fairly or risk losing them to competitors. If employers pay too little, turnover could increase. The employer then has to spend time and money recruiting candidates to fill open roles of employees who left. In short: Compensate your successful employees well now, otherwise you'll risk losing them and paying more to replace them.
Smart companies compensate top talent for both retention purposes and to stay competitive. "It's also wise to message that strong bonuses and raises at year's end are paid for his or her expected efforts in the coming year, not because we are looking back at last year," said Mr. Golden. "Think of the bonus as a signal to trigger performance expectations rather than a reward for past performance."
Job Market Movement
Even as salaries increase, cost of living still plays a role in recruiting. Look for more New York finance and accounting professionals, for example, to make the move to Philadelphia – a highly diversified market with a strong finance and accounting presence – simply because it's cheaper to live and work there than in New York.
"This speaks to similar migration of talent," said Mr. Golden. "Markets smaller in scale than New York are growing. Take asset management & alternative asset management for example. My partner Natasha Moore has real time insight on this current trend."
Atlantic Group's Targeted Expertise for Asset Management Firms On the Move!
During the last several years, many leading private equity firms, hedge funds and other marquee asset management firms have looked to new cities for pockets of growth and business-friendly/tax efficient conditions to build out business support functions such as accounting, finance, tax, IT and operations. Cities like Denver, Dallas, Miami and other parts of South Florida have been areas of growth for this trend.
Atlantic Group witnessed and embraced this trend, building a track record of responding to and capitalizing on the hiring needs of well-known asset managers who were moving large swaths of their employee population to markets other than New York City.
"We have done our best to recruit in an informed, urgent and creative way through partnering with our clients in many of these new growing markets," said Natasha Moore, a partner with Atlantic Group. "Our clients have the same desire to minimize risk for their investors and customers and continue to attract the best, most suitable talent and build excellent middle and back office teams even if the office is not on Park Avenue or Avenue of the Americas."
"We understand the standards these clients expect and we've had a lot of success thus far because we've driven the conversations with enough candidates in the market to understand what our clients need to do to attract candidates with the right skills," she said. "We help them become creative and work through the issues that have previously been a barrier with candidates not willing to leave New York City and relocate elsewhere. Ultimately, for many, they will move onto a better career path and it creates a win-win with our client and the hired candidate."
Top Skills Employers Will Seek in 2018
Because of increased M&A activity among large corporations, corporate development and private equity will see an increase in demand, said Atlantic Group. Look for specific growth on the transaction finance side, the firm said, which will then trickle down to all areas in accounting and operations.
"We are already seeing massive growth in private equity in particular," said Mr. Golden. "There was historic fund-raising in PE over the last 24 months and several of these firms have also had relatively recent IPOs, which has triggered the need for public company corporate departmental hiring in addition to inherent hiring in the funds to support the new capital inflows."
Corporate M&A is also creating new staffing and hiring opportunities, he said, "both direct hire but also substantially on the temp and consulting side as business combinations change the landscapes of companies involved in M&A."
As with every industry, the need for professionals skilled in data analytics will creep into finance, accounting, and audit job descriptions. Atlantic Group said candidates who have experience/skills with SQL and data visualization tools, such as Tableau and Qlikview, will be valued. Companies have lots of data. Now the challenge is how to make the data useful.  Those who have the skills to do that will be coveted.
"It is definitely true that fundamental STEM and technical finance skills are the name of the game in 2018," said Mr. Golden.
Original Article: How to Stay Ahead of Recruiting Challenges This Year