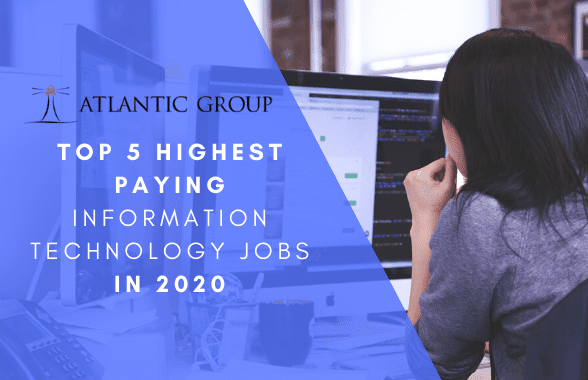 IT professionals are some of the highest-paid workers in the US. In this post, we discuss the five leading IT jobs and their projected average annual salary in 2020. You will learn about the highest salaried positions in the IT world, as well as the qualifications needed. Read on to discover what you can expect to earn, should you opt for any of these top-paying IT jobs.
1. Big Data Engineers
If you opt to work in the big data field, you will be responsible for helping companies find solutions. For instance, you will be responsible for converting huge chunks of crude data into implementable information the company can use to formulate strategies, make decisions, and innovate for competitiveness. You may also participate in the creation of companies' software and hardware architectures. Other duties include creating systems that enable people to use the available big data.
This position typically requires a degree in computer science. Besides that, you will need experience in database management and mathematics. These credentials will qualify you to receive an annual average salary of $175,000, if hired.
2. Mobile Application Developers
We live in an app-controlled generation. Fortunately, the potential is almost infinite for those who are ready to hone their application development skills. As a mobile app developer, you will develop applications for the world's most popular mobile platforms—iOS and Android.
You will need experience and training in programming with mobile frameworks as well as mobile development languages. Knowledge of website development languages is also necessary to fulfill the duties of this position. As a mobile app developer, you can expect to earn an average salary of $150,000 annually.
3. Information Systems Security Managers
These managers need a deep knowledge of systems and network security. They will also need excellent leadership and interpersonal skills. If you want to be an information systems security manager, you should prepare to prove your ability to solve complex problems and communicate your solutions clearly. It is also important to update yourself on all the trending security threats and remedies, as well as evolving state regulations. A career in Information Systems Security Management pays an annual average of $143,250.
4. Application Architects
If you want to build a career as an application architect,  you need strong technical skills. You also need to be able to work well with others and lead them when the opportunity arises. Excellent planning and communication skills are also essential for performing this job. This job entails designing apps' main components, such as infrastructures and interfaces. If you work as an app architect, your average annual salary will be $175,000.
5. Data Architects
These professionals are responsible for the translation of enterprise needs into database solutions as well as overseeing data storage. Consequently, they provide organizations streamlined processes necessary for making strategic decisions. Data architects earn, on average, $180,000.
---
If you are seeking to build a long-term career in the IT sector, consult our comprehensive list of the top 5 highest paying jobs in the IT sector in 2020. It is now up to you to align your career goals effectively as you brace for a successful year.
If you are looking for IT jobs or looking to hire in the IT field, Atlantic Group can help. Atlantic Group Recruiters has vast industry experience and connections, allowing us to help both candidates and clients find the perfect fit.