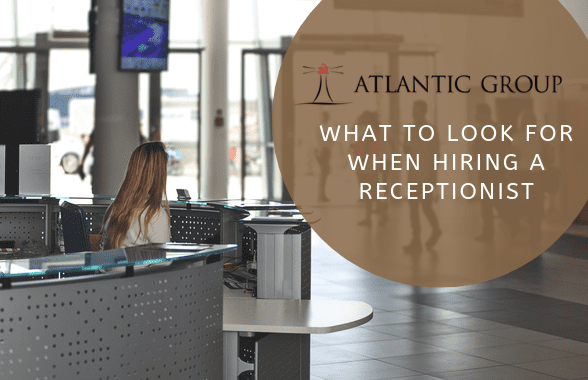 A receptionist acts as the face of a company. They are the first person an individual encounter when they visit an office or speak with on the phone. It is important to hire a receptionist that is both professional and personable. Follow the guidelines below to identify a candidate with the skills needed for this key role.
What Are the Job Requirements of a Receptionist?
Receptionists are responsible for handling a lot more than just answering the telephone. Other duties involved in this position include:
Greeting visitors, making them feel welcome and comfortable.
Making sure deliveries are received and distributed promptly and accurately.
Answering incoming calls, being able to handle multiple lines at a time, in a professional manner.
Maintaining security by accurately logging anyone that enters the building, as well as issuing visitor badges.
Keeping an accurate record of contact information for all individuals in the office, as well as maintaining an updated directory.
Assisting co-workers with administrative duties that include the use of MS Office Suite and/or data entry.
The role of a receptionist varies depending on the workplace environment, but the job requirements typically remain the same. It is essential to employ a candidate that has experience working in a similar office environment and understands the importance of the position with the company.
Necessary Skills to Fill a Receptionist Position
During the interview process, applicants should be assessed to see if they have the following traits:
Communication Skills
An applicant should possess excellent written and verbal communication skills. They must be clear and concise, while possessing a pleasant tone. The right candidate will understand the importance of company confidentiality and not divulge private information. Being able to address the concerns of an individual, while providing great customer service, is an important part of the receptionist role.
Detail Oriented and Organized
A receptionist must be organized. They must be able to remain calm in stressful situations while maintaining an organized work environment.
Receptionists typically juggle multiple duties simultaneously. At any given moment, they may be required to answer the phone, greet a visitor, sign for a package, or send out an important document. Having the ability to multitask under pressure is essential.
A candidate who is easily flustered will not be the right fit for this position. The desired candidate will be an independent worker who is detail-oriented and possesses the skills needed to manage a busy reception area.
Professional Appearance
A receptionist must be able to present themselves in a professional manner. As the face of the company, a receptionist must take pride in their manner of dress. Having a professional attitude and demeanor is of the utmost importance.
Willingness to work with others
A receptionist will work with many different people throughout the course of the day. It is key to find a person that is comfortable collaborating with others. The right candidate must be friendly and able to handle constructive criticism. They must be likable and professional, in order to avoid conflict with coworkers.
Technical Abilities
Most offices are filled with complex equipment. A receptionist must know how to utilize an intricate phone system with ease. They must also know how to comfortably operate a computer, preferably with word processing skills. The ability to navigate the software that a company uses is a bonus, although this can be taught as well. A receptionist must possess the skills needed to operate and maintain copiers, fax machines, printers, and other standard office equipment.
A receptionist is an important position within any company. Finding the right person to fill that role will ensure that the office runs smoothly and efficiently.