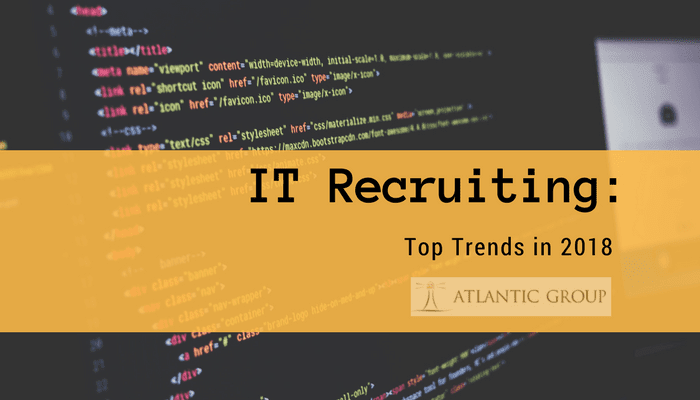 IT Recruiting: Top Trends in 2018
Technology continues to evolve at a rapid rate. And because of that, IT recruiting and staffing needs of employers has changed greatly in recent years. That trend will continue in 2018.
In 2018, the hot trends that will make a technological impact – and create demand for skilled IT professionals – will revolve around cybersecurity, anything cloud-based/virtual environment, and blockchain.
Here's a closer look why:
Cybersecurity: Security threats are everywhere. Because of this, companies want to ensure their company is secure from potential threats that can damage their reputation or shut down operations. Therefore, the demand for skilled cybersecurity workers will continue to grow.
Anything cloud based/virtual environment: It's the future because of flexibility, disaster recovery capabilities, security, and cost effectiveness. This technology is evolving – fast.
Blockchain: According to the Harvard Business Review, "the technology at the heart of bitcoin and other virtual currencies, blockchain is an open, distributed ledger that can record transactions between two parties efficiently and in a verifiable and permanent way. With blockchain…imagine a world in which contracts are embedded in digital code and stored in transparent, shared databases, where they are protected from deletion, tampering, and revision. In this world every agreement, every process, every task, and every payment would have a digital record and signature that could be identified, validated, stored, and shared." This is creating a whole new need for skilled IT workers – and it's only at the cusp of growth.
What are the in-demand and hard-to-fill IT jobs of 2018 that employers will need to staff? Check out this list:
Cloud-based roles: AWS (Amazon Web Services) and Azure.
Cybersecurity roles:

Security Engineers (Infrastructure / Application)
Chief Information Security Officer – CISO: There is a New York State Regulation that is making it mandatory for some employers to have a CISO. The regulations apply to any entity or organization "operating under or required to operate under a license, registration, charter, certificate, permit, accreditation or similar authorization" under New York (United States) banking law, insurance law, or financial services laws.

Mobile Developers (IOS or Android)
Programmers: JavaScript and Python
Data Scientists / Machine Learning
Health Care / Medical Technology: Artificial Intelligence in healthcare and medicine could organize patient routes or treatment plans better, and provide physicians with all the info they need to make a good decision.
Virtual Finance space: Blockchain and Bitcoin and other virtual currencies are driving demand.
Without the right staffing partner in place, it can be difficult – and costly – to fill these roles. Not costly from a salary standpoint – but costly from a business development, revenue, and growth standpoint. If jobs aren't filled, new – and sometimes existing business – can't be completed. Growth stalls. Clients move to a competitor, and your business falls behind in the marketplace. That's costly.
The solution? Partner with a staffing firm who has a nationwide pipeline to top IT talent. Partnering will ensure you're working with recruiters who understand the IT recruiting challenges today's employers face – including these trends that are sure to make an impact in 2018.
Meet the Author and Team:
Morgan Feldman, Managing Director – Information Technology Search, Atlantic Group
Atlantic Group
19 West 34th Street, Suite 806, New York, NY 10001
Direct: 212.271.1582 | Email: mfeldman@atlantic-grp.com