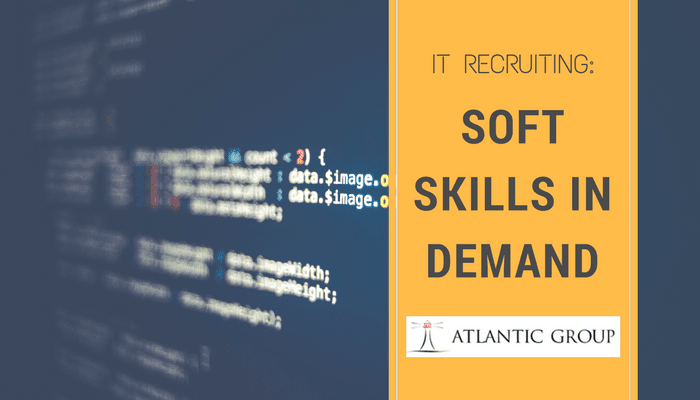 It's no secret that information technology jobs are hot. Employers in finance, healthcare, medical technology, and more are constantly looking for skilled IT professionals to fill open jobs. But job seekers can't assume that just because they have the technical skills required that they're a shoe-in for the job.
Today's employer wants more than someone with a background or expertise in cyber security, mobile development, virtualization/cloud, and data science/machine learning to fill an open role. They want someone with those skills and the soft skills necessary to mesh well with their company. In other words, they want an employee who can communicate with other departments and make an impact across the company as well as carry out the daily functions of their role.
That was the case with an asset management firm that recently reached out to Atlantic Group to fill an application developer role. The firm requested the usual technical skill set of a successful application developer, but they were also interested in finding someone who wasn't afraid to get out from behind their desk, interact with others across all departments, and fit in with their existing company culture.
The good news for employers is that Atlantic Group recruiters are seasoned industry professionals with significant relationships in the industry. Atlantic Group recruiters get inside a company, build strong client relationships, and thoroughly screen candidates before even sending their resumes to an employer. Candidate screening includes having in-depth conversations and meetings with job seekers to identify not just the skills they list on paper, but their interpersonal skills and personality traits as well.
So, when an employer meets with a candidate from Atlantic Group, they typically not only have the required tech skills, they also have the soft skills needed to fit in with that company.
That's a win-win for employers and job seekers. Job seekers benefit from recruiters who pride themselves on being career coaches, guiding IT professionals to make a positive career move. These recruiters connect them with employers who can help them take the next step in their career—and where they'd also be a good fit.
This has helped Atlantic Group recruiters develop relationships with top talent—and develop a robust nationwide database of candidates. This is especially important for employers looking to make quick hires or fill those hard-to-fill IT positions.
So yes, the IT industry is still booming. But when it comes to landing that next job, candidates who have the soft skills and can fit in as part of a team are the information technology workers employers covet.
Is that you? Then check out these job openings and apply today.
Hot IT jobs of 2018
What are the hot IT jobs of 2018? Atlantic Group provides these in-demand jobs and skill sets top employers are recruiting and hiring for:
Cyber Security
Security Engineers (Infrastructure/Application)
Security Analysts
CISO (Chief Information Security Officer)
Intrusion Detection
Risk Mitigation
Cloud Security
Access Management
Data Security
Mobile Developers
Cross-Platform Development (IOS/Android/Blackberry)
Java, HTML5, Objective-C, C++, C#, Python and Swift.
Agile Methodologies
UX/UI Design
Virtualization/Cloud
Amazon AWS, Microsoft Hyper-V and VMware
Private Cloud Hosting
Cloud Security
Cloud Operations and Management
Data Scientists / Machine Learning
R, Python, Perl, C/C++, SQL, Hadoop, and Java
Statistics/Mathematics
Programmers
Python
JavaScript
Swift
Objective-C
Ruby
PHP
Java
C#
C++
Meet the Author and Team:
Morgan Feldman, Managing Director – Information Technology Search, Atlantic Group
Atlantic Group
19 West 34th Street, Suite 806, New York, NY 10001
Direct: 212.271.1582 | Email: mfeldman@atlantic-grp.com