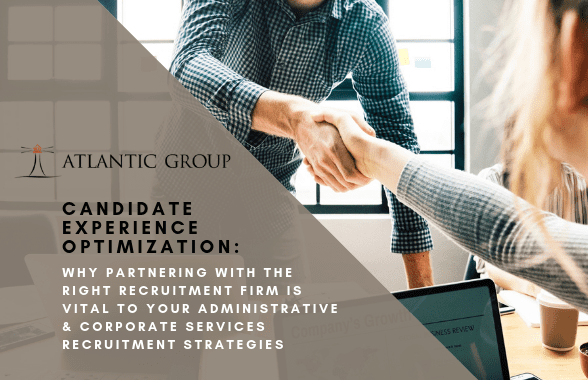 As unemployment rates continue to fall, competition for talent is rising. In today's job market you no longer pick the talent, the talent picks you, and that decision is based largely on candidate experience.
If you still don't believe creating a positive experience is important, consider that four out of five job applicants believe candidate experience directly represents how a company values its employees. Considering candidates now have more opportunities than ever before, the onus lies on the employer to optimize the candidate experience throughout the entire interview process.
Partnering with a strategic staffing firm will not only improve your time to hire metrics, it will also have a positive impact your firm's reputation and brand, and Working with the right recruitment firm can help improve the 4 stages of candidate experience; sourcing, screening, selection and on-boarding, while allowing you to focus on the bigger picture.
The Recruiters You Partner with will Either Strengthen or Damage Your Company Brand & Candidate Experience
An agency recruiter may not be a member of your company, but they are your brand ambassadors, because they are a job seekers' first touch point with your company.
Their words and actions reflect on your company. Bad recruiters will drive job seekers away, and great recruiters will help you attract high-level talent!
Stay away from "resume-slingers." Recruiters like this are not good brand ambassadors; they do not meet with candidates, they do not take the time to get to know a candidate's motivations, previous successes, career aspirations, etc., and they are not passionate about identifying candidates that will help your teams thrive.
Instead, they simply speak with a candidate over the phone, throw resumes at openings and hope something sticks. They do not personalize the candidate experience; they don't follow up with candidates and they won't take time to passionately relay your company's mission statement, history, culture, and employee success.
These types of things will turn candidates off to working with staffing firms, and the companies they represent. Candidates will stop responding to your job advertisements, will share their negative experiences on social networking sites, and may possibly even reject your job offers as a result.
How to Know if You're Partnered with the right Staffing Firm
Here are a few questions you should ask yourself to ensure you are partnered with a staffing firm whose chief interests are in protecting your brand and candidate experience, while ensuring they present you with high-level talent:
1) Does the firm invest time in really getting to know your company, team, and staffing needs?
One of the fastest ways to negatively affect candidate experience is to present the wrong candidates to a job opening and then never follow up to provide feedback.
2) Is the agency a thought leader?
A strong staffing partner should provide more than just talent; they should serve as a consultative partner and resource when it comes to your hiring initiatives and strategies. They should provide advice on things like job descriptions to ensure you attract the right skill set, industry trends and salary bands to ensure you are competitive in your market space, and interview process to ensure it is positive and streamlined.
3) How well does the agency screen & assess potential candidates, and can you trust what you're getting?
If a staffing firm is not thoroughly screening and speaking with candidates on your behalf, they aren't saving you time and they aren't providing any added value to the candidate. Nor are they providing a positive experience and therefore, neither are you.
4) How strong is the firm's brand & reputation?
If they aren't taking time to protect their own reputation, they won't protect yours!
If you are looking to optimize candidate experience and bring on a staffing partner to help with administrative & corporate services recruitment, contact Atlantic Group today. We work to make the hiring process easier for both companies and candidates, creating an efficient and painless hiring process for both parties.