Top 10 Executive Assistant Interview Questions
Interviewing for an executive assistant role? This pivotal position demands a distinctive combination of skills, ranging from exceptional professionalism to adeptness in discretion and flexibility. Setting yourself apart from fellow applicants hinges on acing the interview.
To help you shine, here are 10 common executive assistant interview questions to expect – along with tips for crafting winning responses: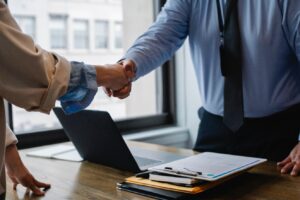 1. Why Are You Interested in This Role?
Focus on how your skills and experience make you an excellent fit for the daily demands of this fast-paced job. Highlight relevant qualifications such as:
Multi-tasking abilities
Discretion and confidentiality
Project coordination experience
Strong communication and interpersonal skills
Aptitude for learning quickly and working independently
2. What Skills and Experience Do You Bring to This Position?
Relevant hard skills include:
Scheduling expertise
Event planning
Mastering tools like MS Office
Fluency in any required software/programs
Soft skills to mention:
Written and verbal communication abilities
Comfort interacting with senior leadership
Discretion when handling confidential data
Multi-tasking and time management
Being proactive and resourceful
3. What Skills and Experience Do You Bring to This Position?
Emphasize your flexibility to shift priorities and schedules when unpredictable needs arise. Share examples of smoothly adapting to accommodate last-minute meetings, travel changes, and schedule conflicts.
Discuss tools and strategies you'd leverage to expertly manage a dynamic calendar, like creating buffer time between meetings and keeping shared calendars updated. Convey your commitment to making the executive's life easier, not more complicated.
4. How Do You Prioritize When Juggling Multiple Demands?
Outline your approach for analyzing all tasks and projects to identify top priorities based on importance and deadlines. Explain how you'd consult with the executive to align on priorities if unclear.
Share examples of using productivity tools to stay on top of shifting needs, like custom Excel tracking templates, project management software, or running to-do lists. Emphasize being proactive in surfacing potential scheduling conflicts or deadline issues early.
5. How Would You Handle Sensitive Information?
Stress the importance of full discretion, professionalism and respect for confidentiality. Outline tactics you'd employ, like securing physical documents, using password protections, and avoiding discussing internal matters.
You can provide examples of appropriately safeguarding privileged information from past roles, while emphasizing understanding this executive role's particularly high sensitivity.
6. How Do You Ensure Accuracy in Your Work?
Describe proofing techniques like double-checking your own work, leveraging tools like Excel or PowerPoint review to catch errors, or developing checklists for recurring tasks.
Share examples of catching and correcting mistakes before they reached the executive. Convey that while perfection isn't possible, you have effective methods for producing highly accurate work quickly.
7. Are You Comfortable with Public Speaking or Presentations?
Don't sweat it if presenting makes you a bit nervous – focus on your preparation and diligence. Share how you'd get fully versed on key topics and data ahead of time, rehearse, and ensure smooth AV setup.
Convey that while presentations may never be your favorite task, you will ensure the executive has polished materials and your support. Offer examples of presentations or public interactions you've handled smoothly.
8. Are You Comfortable with Public Speaking or Presentations?
Spotlight your ability to quickly master new tools, whether through hands-on exploration, reading tutorials, taking online courses, or asking colleagues for coaching.
Convey enthusiasm for expanding your skills as platforms evolve. Provide examples of getting proficient with a new program or database in a short timeframe in a past role.
9. Why Do You Want to Support This Particular Executive?
Do your homework and highlight your genuine interest and alignment with the executive's leadership approach, values, or big-picture objectives. Share why their vision and principles resonate with you.
Showcase your passion for collaborating closely with leadership to keep them operating efficiently and turn their goals into realities.
10. Do You Have Any Questions for Us?
This is your chance to demonstrate genuine interest and enthusiasm for the company. Ask questions that provide insights into the culture, leadership philosophy, typical day-to-day, path for professional development, or anything else that will show your fit.
With preparation and poise, you can tackle any executive assistant interview. Use these common questions as a springboard to tell your story and highlight the skills that make you the ideal candidate for this critical role.
Looking for work? Get connected with one of our career experts.