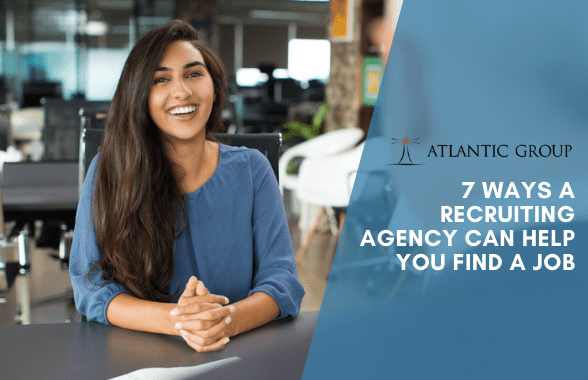 Are you frustrated with your current efforts in finding your next job? Have you tried networking or submitting your resume online but have not found success?
If so, you may want to reach out to a recruiting agency that can help make the process much easier.
In this article, you will learn seven ways a recruiting agency can assist you with your job search.
A Recruiter Can Save You Time
Spending several hours each day browsing job boards and sending out resumes may not be necessary when looking for a new job.
Working with a good recruiter can help augment your job search by having roles presented directly to you and gaining access to jobs that are not posted online.  They can also provide additional benefits that include resume review, interview preparation, and job market intel.
A Search Plan Catered to your Goals
Recruiters take the time to understand your career goals and set search parameters. They execute based on these parameters to ensure you do not waste time interviewing for jobs that will not interest you or that do not align with your goals.
Feedback & Guidance
It is sometimes very difficult to gather feedback from interviews you set up yourself online. Recruiters will provide interview feedback and apply that feedback when preparing for the next interview, helping you refine your message that ultimately allows you to perform better on the interviews.
Your Interest is Completely Aligned with your Recruiter
A recruiter only gets paid if they find you a job.  Making sure the job aligns with your goals and interests is the primary focus of a recruiter because he or she knows that unless they do, you won't take that job if it's offered to you.
Access to Job Opportunities
Your recruiter has access to more opportunities than you would have on your own. They work confidentially and exclusively with companies that otherwise may not post their jobs on websites or job boards, thus providing additional opportunities you would otherwise not have access to.
Salary Negotiations
It is awkward and sometimes uncomfortable for people to discuss their salary and benefits directly with a company. A recruiter will negotiate directly with the company as they are knowledgeable on salary ranges and benefits, thus eliminating any stress that may occur during this process and most likely securing the best possible compensation package for you.
It's a Free Service for You
Recruiting agencies are paid by the companies they represent, not by the candidates, so the service is free to you – take advantage of that!
You Develop a Relationship with your Recruiter
When you work with a recruiter you develop a relationship that lasts beyond that particular job search.  When you start a new job, you may stop thinking about your recruiter, but your recruiter does not stop thinking about you and your career goals.
The agency will continue to screen jobs for you and reach out when better opportunities present themselves.
Final Thoughts
Working with a recruiting agency like Atlantic Group can help you find a new role that aligns with your experience and career goals. They can also save you time and provide crucial feedback that may give you an upper hand on other candidates they may be interviewing. With recruiting offices in New York City, Philadelphia, Boston, and Chicago, our team is prepared to help you along your career path!