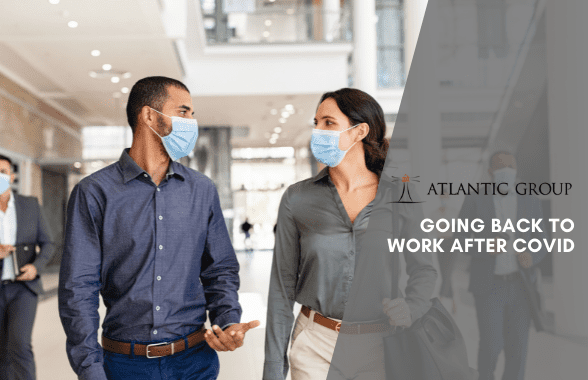 Getting used to a new work environment after covid will be challenging. Getting back to your old routine can be tricky when you've been away from the office for so long. In this article, we will go over some ways to make the transition easier.
It's important to remember that things may not be the same. You may need to make some adjustments, but with a bit of planning, the return to work can seem more normal.
How to Prepare for Going Back to Work After Covid
While this may be a change you are looking forward to, it can also carry significant stress. Before you go back to work, plan your schedule and figure out what tasks you'll need to take on first.
You should make sure to familiarize yourself with all changes in policies at your office, especially if you've been out for an extended period.
While the adjustments may appear daunting, they can also be exciting. You're now able to reconnect with colleagues and learn about what has changed at your place of work.
Get Back into a Schedule
To prepare for the first day back at work, it makes sense to establish a morning routine. Having a routine and sticking to it sets the tone for the rest of the day..
If you've been able to work remotely but now have a commute, set an alarm that will give ample time to wake, dress, have breakfast, and travel. Aim to leave at least 30 minutes earlier than usual, so there's no need to stress about being late on the first day back.
You'll want to prepare yourself for the reality of a commute and a full day away from home. If you usually prepare meals or bring coffee to work, prepare those items the night before so they are readily available in the morning.
If you are a parent, prepare your children for your return to work as well. Include them in your morning routine, and make sure they know what will be different now that you will no longer be home during the day.
You can mitigate some of the associated stress by preparing for the changes that will come with your return and finding ways to make them more manageable.
Check with Your Team for Office Updates
Since COVID-19, many organizations have created safety plans to protect employees. It is helpful to go over your company's plan before you return to work. If your company does not have a safety plan, ask HR or your leadership team for updates.
It's essential to have transparency and strong communication with your team members during this transition. If you're a manager or supervisor, set expectations for your team to ensure that everyone is informed. If you do not hold a leadership role, it is still vital to communicate with colleagues and management about office expectations to accommodate each other.
In addition to open communication, you'll want to be aware of the day-to-day details of your workplace.
Has your desk moved? Will you be in the office most days, or are there going to be times where you'll work remotely? Is social distancing being practiced in the workplace, and if so, how is it implemented? What are the procedures for cleaning and disinfecting areas and equipment? Are employees screened for COVID-19 symptoms before entering the building? How are exposures and contact tracing handled?
Knowing the answers to these questions can make it easier for everyone in your group to adjust.
Check Local Mandates
Being aware of any local mandates ahead of time will reduce stress during your commute and at work.
If you travel on public transit, take note of any schedule changes or social distancing requirements. Arrive earlier if you are required to be screened before entering a public building or taking the transit system to avoid having your commute delayed. Find out whether you'll need to wear a mask in public spaces and at the office, so you can plan to have one available.
Awareness of local policies and practices will make it easier to adjust your schedule accordingly. It will also allow you to avoid having to make significant adjustments at work.
Get Family/Pets into a Routine
It can be an adjustment for children and pets who are used to having parents around all day, so it's important to discuss how everyone is feeling. Plan a routine for them because the change can affect everyone.
Make sure you have a plan for how to get your children to school, daycare, or after-school care. If older children are home from school before you return from work, make sure they understand any expectations in terms of homework or chores so that once you are home, you have more free time to enjoy with each other.
Give pets time to learn to be alone during the day. Dogs, in particular, can experience separation anxiety. If possible, find out how they will respond in your absence before you are at work.
Pack Accordingly
Find out what items you need to bring with you and the usual work items. You'll likely want to have masks and personal hand sanitizer and perhaps a face shield and gloves, especially if you plan on taking public transportation or work in a city or area with a lot of people.
Final Thoughts
Having a plan is important before going back to work after COVID-19. You'll want to know what your workplace is doing regarding safety and social distancing, so you can anticipate how it will affect your time at the office.
COVID-19 has caused many people to rethink their work and life balance. It's vital that you take care of yourself, your loved ones, and those around you during this time. Taking the steps outlined in this article can help make your return to work easier.