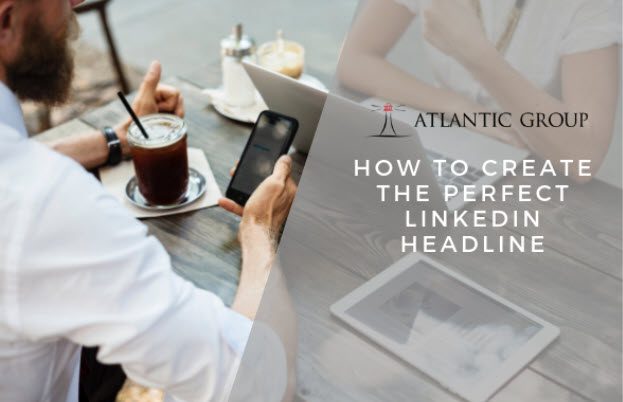 With over 20,000 companies using LinkedIn for recruiting and 3 million jobs posted per month in the U.S. alone, candidates have a great opportunity to use their profile to land a great position. One of the most powerful ways to do this is with a purposeful LinkedIn headline.
Understanding the Power of LinkedIn Headlines
"Your LinkedIn headline is a 120 character sales pitch which differentiates you from your peers. It is important that it reflects your personality and accomplishments in a clear and concise manner and be written in a way which attracts people to click on your profile." says Shilpa Sood of Atlantic Group. She goes on to note, "Your headline should also contain keywords related to your profession which enables recruiters to easily find you when conducting their searches."
A user's LinkedIn headline is what viewers see right below their name; the default headline is a user's current job title and company. Many users likely underestimate this important section on their profile, yet here's why they shouldn't:
It's the most visible section on a profile besides name and picture

It shows in the profile icon in the newsfeed and blog posts

Your headline displays under your name when the profile icon appears to other users (incl. "recommended for you" section)

It is one of the most important fields for LinkedIn's search algorithm

It's an important section that employers look for and judge candidates by
Considering 87% of recruiters use LinkedIn to evaluate candidates, users shouldn't downplay the importance or power of a purposeful LinkedIn headline.
What is a Purposeful LinkedIn Headline?
Now that we've somewhat established the power and potential LinkedIn headlines have, how exactly do users create one with purpose? What exactly is it supposed to describe? The user's work, personality, ambitions, creative prowess, or what?
This highly depends on the industry, position, user, and purpose for using LinkedIn in the first place. For candidates trying to land a great position with a solid company, the purpose for their headlines should be to stand out and tell recruiters what they do.
An article found on Undercover Recruiter called: "10 LinkedIn Headlines that Stand Out from the Crowd", explains more:
It is your 120 character hook to people finding you in a LinkedIn search, it should be about what you do as opposed to what you are. It should be memorable and enticing enough for someone to click on your profile and not your competitors.
The purpose is to stand out from the crowd without being too outrageous and turning recruiters off. With millions of users trying to gain attention from recruiters, headlines that stand out will have to say something more than position or skill details.
Author Ana Hoffman in an article on LinkedIn called: "How to Turn Your LinkedIn Headline from Blah to Memorable", written on December 3rd, 2014, gives us some tips:
Don't just describe who you are and what you do

Write a headline that contains a benefit to the viewer

Use keywords others might use when needing your services
She then gives some examples of headlines that stood out to her, some businesslike and to the point:
"Increasing your sales by combining integrated media solutions with high precision targeting"
And some more humorous and edgy:
"I've Helped 7 Companies Reach $1 Billion. Who Wants To Be #8?"
Her own headline reads as:
"Discover how to get BIG website traffic for small marketing budgets at Traffic Generation Cafe"
Finding the right mix between a businesslike and creative tone will ensure enough keyword information is included, yet headlines will still stand out from the crowd. The purpose each user intends to convey with their headline must be clear enough for viewers to understand what they do, yet also creative enough to stand out and tell viewers what they're about.
Essentially, LinkedIn headlines are more powerful than most users understand; those who can craft a purposeful headline that stands out from the crowd will have a better chance of gaining traction with recruiters. Considering all the opportunities available on a network with 138 million users in the U.S. alone, this is a powerful tool for candidates to optimize and use.