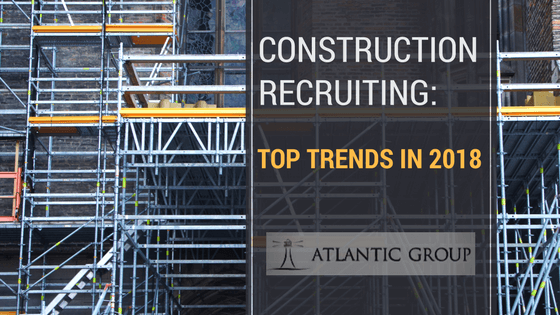 Construction Recruiting: Top Trends in 2018
The construction industry is booming, and contractors are encouraged that growth will continue in 2018.
In fact, 75 percent of construction firms plan to expand payrolls in 2018, according to survey results released in early January by the Associated General Contractors of America (AGC of America) and Sage Construction and Real Estate. However, the reality is, today's younger workers are not pursuing careers in construction, and once again in 2018, employers will struggle to find qualified candidates to fill open positions. According to the survey, 78 percent of firms reported they are having a hard time finding qualified workers, and 82 percent of firms expect it will become harder, or remain difficult, to recruit and hire qualified workers in 2018.
This will have a trickle-down effect, and make it more difficult for construction firms to deliver projects on time and/or under budget.
But there are solutions to the labor shortage, and Atlantic Group is currently working with several construction industry firms taking these proactive steps to find qualified construction industry professionals in 2018:
Increasing salaries: Top employers are raising salaries to remain competitive and attract the passive candidate to fill open positions.
Willing to negotiate/salary flexibility: Job seekers know there is a labor shortage, and are becoming more confident countering initial salary offers. A few years ago, a candidate who was offered a salary of $100,00 would counter with a salary request of $105,000. Today, that counter jumps to $115,000. Employers must be prepared to handle these demands, and may have to pay more to attract top talent.
Network of passive candidates: Atlantic Group works with employers focused on filling a variety of positions, including project managers, superintendents, and safety and estimating professionals. Whatever the position is, Atlantic Group has a pipeline of passive candidates who have the skills needed to help employers staff those hard-to-fill positions. In addition, these candidates can refer other construction industry professionals for current and future openings.
Company advocate: By building relationships with employers, Atlantic Group can share a company's story, vision, and goals, and be a strategic recruiting partner for construction industry employers.
Confidential job search: Today's job seeker wants confidentially. They don't want to post resumes to job boards where anyone can see them – including their current employer. At the same time, not every company wants to use a job board, or blast their job opening all over the Internet, forcing recruiters to sift through hundreds of resumes of unqualified candidates. By working with a recruiting firm, both job seekers and employers can focus on targeted, confidential job searches.
Hidden job market: By partnering with a recruiting firm experienced in the construction industry, job seekers can be alerted of jobs that may not be advertised to the public.
Relationship building: A job seeker may not want to leave a current job, but developing a relationship with a strong recruiting firm will give them the ability to get a step-up from other job seekers when it's time to make a move.
These are some of the trends, challenges and strategies that will impact recruiting and hiring in the construction industry in 2018. Is your company ready for the challenge?
Ready to explore new career opportunities?  View our current mechanical & construction job listings here.
Meet the Author and Team: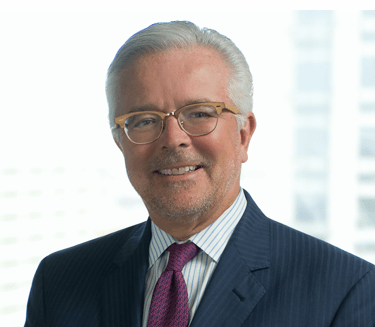 Greg Sheva, Managing Director of Mechanical & Construction Division, Atlantic Group 
100 N 20th Street Suite 203 | Philadelphia, PA 19103
Direct: 267.314.7112 | Email: gsheva@atlantic-grp.com