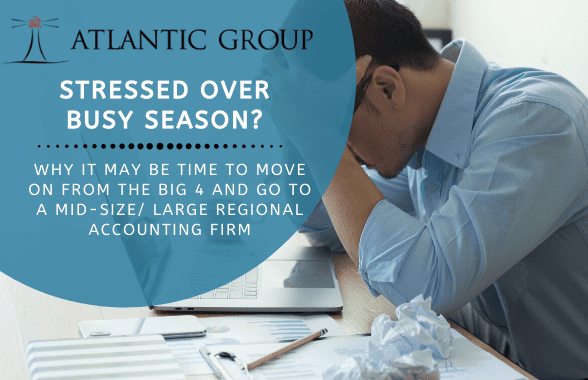 Busy season at a Big 4 accounting firm is an extremely stressful time and may have you contemplating a career change to a mid-sized firm. Read on to learn tips on how to move to another public accounting firm and why it may be beneficial for your career.
Working at a large public accounting firm is the goal for many young accountants, and for good reason. Big 4 firms and other mid-to-large sized public firms offer extensive in-house training for new accountants. Starting at a large public firm is a great way to gain access to fortune 100 clients. These large firms will prepare you for licensing exams and help you work towards your CPA.
But when is the right time to move on from the Big 4, and how do you know it's best for your career?
We'll discuss when you should part ways with your current accounting firm and how moving to a mid-size/ larger firm can benefit both your daily life and your career goals.
When Should You Leave the Big 4?
Leaving your position at a large accounting firm can seem daunting. If it's your first full-time accounting job, you may be wary to leave for unfamiliar territory, even if you don't love the long hours and stress of the busier seasons.
You may feel safe in your role at a large public accounting firm, but the truth is that after two or three busy seasons of heavy auditing, you will most likely feel that moving on is best for your career.
With a few years of experience at a Big 4 and a CPA under your belt, you are extremely marketable as a candidate. You have the right experience and training to transition to a mid-sized firm where you can learn new skills and expand within your career.
To gain broader experience in the industry and enjoy the perks of a mid-sized firm, you should consider leaving a large public accounting firm after two – three years or after one year of being promoted to senior.
Why Work for a Mid-Sized Public Accounting Firm?
One of the most initially appealing benefits is the improved work/life balance. At a Big 4 firm, busy season can mean long hours of auditing or tax compliance and lots of stress. 60-100-hour work weeks are not uncommon. A mid-sized firm typically offers a better work/life balance, more hands-on experience, broader industry exposure, and higher pay.
 They offer more visibility so your managers and partners can get to know you better. This makes it easier to advance within the company, as there is less internal competition and more opportunity to stand out and take on different projects.
What to Consider When Transitioning to a Mid-Sized Accounting Firm
If you've put in your time at a large public firm and you're ready to make a move to a mid-sized firm, there are a few factors to consider.
Think about your long-term career goals. A mid-sized firm can offer more hands-on training for a range of skills, so consider what skills you want to develop, or what position you're working towards. Early in your career, each role is a bridge to the next one, so be sure that you're on the right path.
Know what you're qualified for. It's easy to move from tax or auditing in a big firm to the same role in a mid-sized firm. It's not as easy to move into strategy or a more business-facing role if you're coming straight from a Big 4 position. Luckily, mid-sized firms usually offer more opportunities to work on different types of projects and develop diverse skills that will help you expand upon your experience, so that you can work towards what you're most interested in.
Look for multifaceted roles. If you're looking to gain broader experience and skills, look for a role that has various responsibilities. Push yourself to develop new skills so that you have more to offer. Some positions have rotational opportunities to interact with other parts of the business, and progressive companies may offer more chances to take on different roles. You'll have to apply the skills you've already obtained at a large firm, but search for positions that will use those skills while helping you develop new ones.
Planning on leaving your Big 4 company for a mid-sized accounting firm? Let Atlantic Group Recruiters help you on your job search. Atlantic Group has wide-reaching connections and industry experience, so they can help candidates find the right fit. Contact Atlantic Group today for accounting job opportunities, career change advice, and more.