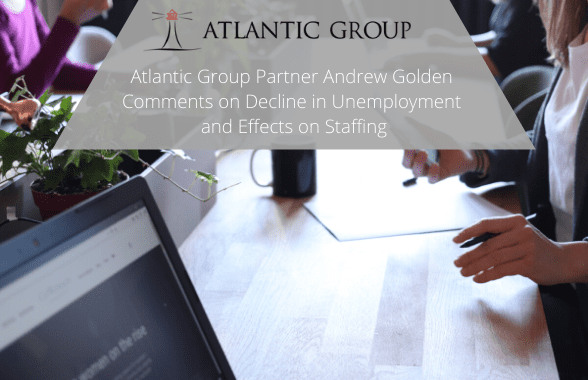 To read the full article, visit: https://huntscanlon.com/unemployment-rate-dips-to-3-5-percent/.
Andrew Golden, a partner at Atlantic Group Recruiters since 2012, recently weighed in on the latest unemployment numbers in an article on Hunt Scanlon. Golden, who has been quoted on staffing trends in Hunt Scanlon and other major publications, calls the unemployment rate "historic".
Hunt Scanlon, one of the most renowned sources for information on staffing and talent acquisition, had leading search consultants discuss the dip in unemployment and its effect on the recruiting industry. The unemployment rate is now at a low 3.5% according to the U.S. Bureau of Labor Statistics. This suggests a relatively stable job market, as September 2019 was the 108th consecutive month of job growth. The feature on Hunt Scanlon, titled "Unemployment Rate Dips to 3.5%" reports job growth in fields like healthcare, government, professional and business services, and transportation.
Andrew Golden, a seasoned professional in the staffing industry, weighed in on how this low unemployment number affects the recruiting business, saying:
"The unemployment number is historic. 3.5% makes for an interesting recruiting environment. It is a candidates' market. What we find most staggering is the fact there remains huge demand on talent from all types of companies. We are inundated with job requisitions in specialty areas of finance, accounting, risk and compliance. There is no shortage of quality, high paying jobs in the NY Metro area for qualified candidates".
Before joining the team at Atlantic Group, Andrew Golden started his career in retained search, helping to build venture capital backed early-stage companies. He served for ten years as a Managing Director for a Fortune 500 staffing firm, running one of the most profitable offices in the country. In 2012, Andrew Golden joined Atlantic Group as a partner in the Stamford, CT office. He has brought extensive knowledge of search and recruitment strategy to Atlantic Group as partner.
About Atlantic Group Recruiters
Atlantic Group is a recruitment and staffing agency headquartered in New York City, with additional offices located in Philadelphia, Boston, Stamford, CT, and Morristown, NJ. Backed by strong business ethics, the company provides targeted recruitment research and industry expertise to deliver results to clients and candidates. The company strives to build long-lasting relationships, enabling them to deliver the perfect match between client and candidate.