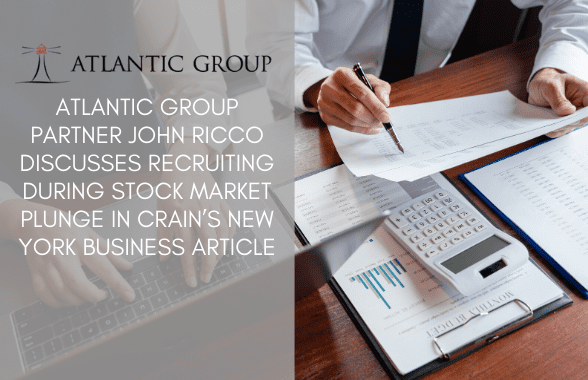 John Ricco, a founding partner of Atlantic Group was recently quoted in Crain's New York Business. The article is titled "Recruiters are busy filling finance roles despite the plunging stock market." In it, Ricco discusses the continued demand for candidates in finance positions, despite the recent stock market drops. 
The stock market is braced for decline as the global economy is affected by the growing pandemic, Coronavirus. Despite a 1900 point plunge in the Dow Jones Industrial Average in the first two business days of March, Atlantic Group remains busy filling finance roles. Ricco comments that Atlantic Group has "more jobs than we could possibly fill. The interesting part is that it's hard to find candidates. There's a lack of supply to fill these finance jobs." 
While the stock market declines, Atlantic Group continues to grow. They have added recruiters to their teams to meet demand, and Ricco states that "We can't hire fast enough. We want people who are passionate about recruiting." Despite concerns about the global economy as Coronavirus spreads, Atlantic Group is still successfully filling positions across various industries. Crain's New York also announced that Atlantic Group is ranked as the 5th Largest Executive Recruiting Firm in New York.
To read the full article visit: https://www.crainsnewyork.com/data/recruiters-are-busy-filling-finance-roles-despite-plunging-stock-market
About Atlantic Group
Atlantic Group is a full service recruiting firm, with headquarters in New York City and offices along the East coast in Philadelphia, Boston, Stamford, CT, Melville, NY, Metropark, NJ as well as in Chicago and London. They offer premier recruiting services in industries including finance, accounting, information technology, front office, healthcare, administrative and corporate services, and more. Atlantic Group is committed to providing the best recruiting services possible, offering their years of expertise and focused, targeted recruitment research.