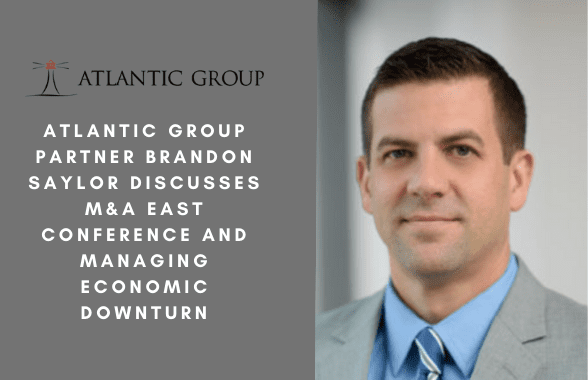 To read the full article, visit: https://www.acg.org/philadelphia/news-trends/thought-leadership/capitalizing-and-managing-through-next-downturn?platform=hootsuite
Brandon Saylor, a partner at Atlantic Group, recently attended the M&A East Conference. After the conference, he published his thoughts on the discussion about managing through economic downturn on ACG, the Association for Corporate Growth. His article, titled "Capitalizing and Managing through the Next Downturn" focuses on how businesses can prepare for a potentially impending economic slowdown.
For corporations to prepare for a downturn and potential recession, Saylor recommends that CEOs "understand what the signals of a downturn are in their industry" to foresee any losses and prepare contingency plans for their business. He also emphasizes the opportunity to sell for certain businesses while the market and multiples are favorable, and the importance of putting capital to work despite the possibility of economic slowdown in the near future. While some industries will be hit, others will remain stable and may even see growth during a recession.
Saylor includes the comments of other corporate leaders who attended M&A East in his article. Rob Newbold, the Managing Principal at Graham Partners, commented on economic downturn saying "Short term it's going to be a negative, long term it's a healthy positive." Michael Goodman of SSG Capital Advisors LLC mirrored that positivity, saying that a downturn "might not be such a bad thing" since it can contribute to long-term health of private equity.
In his final takeaways from the conference and on this topic, Saylor recommends focusing on industries that won't be harshly affected by an economic downturn, like healthcare, consumer and food tech, and industrial technology. He also recommends that leaders "fundamentally understand the business and do your due diligence" to prepare, and look towards public equity markets for opportunities.
Before joining Atlantic Group, Brandon Saylor started out as a CPA for Ernst & Young, Footlocker, and Harsco. He joined the recruiting industry in 2002, working for a boutique firm. In 2014, he co-found the Philadelphia office of Atlantic Group Recruiters.
About Atlantic Group Recruiters
Atlantic Group is a recruitment and staffing agency with offices along the east coast in Philadelphia, Boston, Stamford, CT, and Holmdel, NJ, with headquarters located in New York City. The company utilizes focused research and a vast knowledge of their industry to offer premium staffing and recruitment services. Since the beginning, Atlantic Group has worked to form relationships to further their reach for both clients and candidates, with a focus on strong business ethics and delivering results.