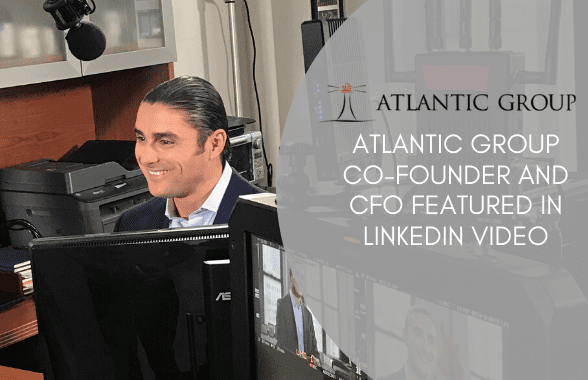 Atlantic Group was recently featured in a video from professional networking site LinkedIn discussing how the staffing firm has benefitted from new LinkedIn recruiting tools. In the video, managing partner John Ricco and CFO Adolfo Del Prado discuss the company's growth and decision to implement LinkedIn strategies into their comprehensive recruiting services.
"Eventually you do get to a size where it's time to grow and try to figure out different ways to go about bringing in new candidates, new clients. The challenge was to figure out how to go about doing that," says Ricco, a co-founder of Atlantic Group since its inception in 2006. What started as a small recruiting firm has grown tremendously, as has the available technology for recruiters and candidates. Growth within Atlantic Group and within the recruiting industry has led to a need for new practices, strategies, and technologies to reach and connect candidates and clients.
After researching and discussing LinkedIn recruiting tools with reps from the platform, Atlantic Group partners have moved forward with this new strategy in 2020. In the promotional video, Ricco states, "We found a lot of value in the strategy that this product provides. It's been a new and interesting way to get new candidates that will eventually turn into clients, and it will definitely yield results for us in the future."
Atlantic Group is committed to providing high quality, research based recruiting to both clients and candidates. Their targeted recruitment research is paired with strong business ethics to deliver quality results. The way research and outreach is done has evolved since Atlantic Group opened its doors, and working with platforms like LinkedIn reflects their efforts to stay relevant and reach the best candidates efficiently and effectively.
Check out LinkedIn's video featuring Atlantic Group here:

About Atlantic Group
Atlantic Group is a full service recruiting firm, with headquarters in New York City and offices along the East coast in Philadelphia, Boston, Stamford, CT, Melville, NY, Metropark, NJ as well as in Chicago and London. They offer premier recruiting services in industries including finance, accounting, information technology, front office, healthcare, administrative and corporate services, and more. Atlantic Group is committed to providing the best recruiting services possible, offering their years of expertise and focused, targeted recruitment research.