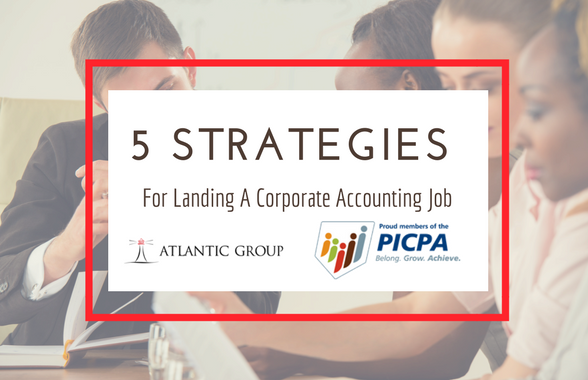 Tax reform, corporate mergers and acquisitions, and changes within health care have all placed a burden on employers' accounting needs. As a result, employers are actively seeking highly qualified accounting professionals to fill many critical corporate positions.
So, what does one have to do to stand out and get hired in today's competitive accounting job market? Here are five tips to help you shine.
Prove How You Can Make an Impact
During an interview, discuss your accomplishments from past jobs that fit the needs of the company with whom you are interviewing. To gauge a company's top issues, closely read the job description and any publicly available financial and nonfinancial company information beforehand. During the interview, reference the job description and your résumé to highlight key successes, especially those related to what you have determined may be the company's main concerns.
Tell your story in a way that shows how you would make an impact on the organization. Give them reasons to hire you and not another candidate.
Become a CPA
The certified public accounting credential is the accounting profession's highest standard of competence, achievement, and quality. Becoming a CPA shows a company that you are serious about your profession. It will also open doors to career paths in accounting and beyond not available to those without the CPA designation.
Highlight Accomplishments and Leadership
Employers want two things when hiring their next employee:
Someone who has leadership experience/potential.
Someone who can fit into the company culture.
Examples of how you helped a company save money, grow revenue, develop processes, and build dynamic teams really stand out. If you do that and can show how you fit with the team, you will greatly increase your chances of getting hired.
Get Out and Network
Yes, high-skill jobs such as accounting are about what you know, but landing a superior position can also be about who you know. Get out and network. Attend industry events, join your state CPA association, such as the Pennsylvania Institute of CPAs (PICPA). Better yet, volunteer or seek out leadership roles within these organizations. Volunteering can lead to stronger relationships and enhancing the leadership skills employers seek.
Learn about your local market and who the top employers are in your area. Talk with your colleagues and friends, then connect with professionals from those companies. Employers want to hire people with good reputations and strong references.
Seek the Help of a Recruiting Professional
Job searches in any industry are hard. That's why building a relationship with a recruiting firm can help. Recruiters cut through the clutter and are connected with a range of employers, from middle market to Fortune 500. They have access to jobs not listed on job boards or company websites. They can guide a job seeker through the interview process, and provide details on company culture and the unique skills a company looks for in a hire. Developing a relationship with a recruiter can help you take the next step in your career.
Today's employers are looking to fill open jobs fast. Follow these strategies to stand out from the crowd and get hired for the premier accounting job you are seeking.
---
Brandon D. Saylor, CPA, is a partner with Atlantic Group in Philadelphia. He can be reached at bsaylor@atlantic-grp.com.